2021 Chevrolet Traverse in Rimbey, AB

2021 Chevrolet Traverse Overview
Chevrolet SUVs have quite the reputation for outstanding reliable performance that customers have enjoyed in the past, and that continues on the latest 2021Chevrolet Traverse. It is equipped with more additional amenities and components that make it better than before. The new and improved Traverse hits the streets this year with some savvy updates that mostly impact its interior. The cabin gets some upscale adjustments with more conveniences across the lineup. And, to keep up with your modern needs, a new round of technology is added to the Traverse to make your outings more pleasant and relaxing. More safety technology is included this year, and the seats also get an upgrade to be more comfortable.
2021 Chevrolet Traverse -Safety
With a lot of standard and available safety aids, the 2021 Traverse is designed to keep you and your loved ones safe no matter where you're headed. Some safety aids are included on all trims, while others are optional based on the model you get. Standard safety aids include front pedestrian braking, automatic emergency braking, lane departure warning, and lane-keep assist. Fortunately, Adaptive cruise control is available, and you can now also get a safety alert seat that uses pulsating technology to warn the driver if a crash is imminent. The Traverse can also be equipped with a high-definition surround vision camera with multiple angles to give you a panoramic view of the car for safer maneuvering. Lane-change alert with a blind-spot zone alert system is another available safety aid.
2021 Chevrolet Traverse - Exterior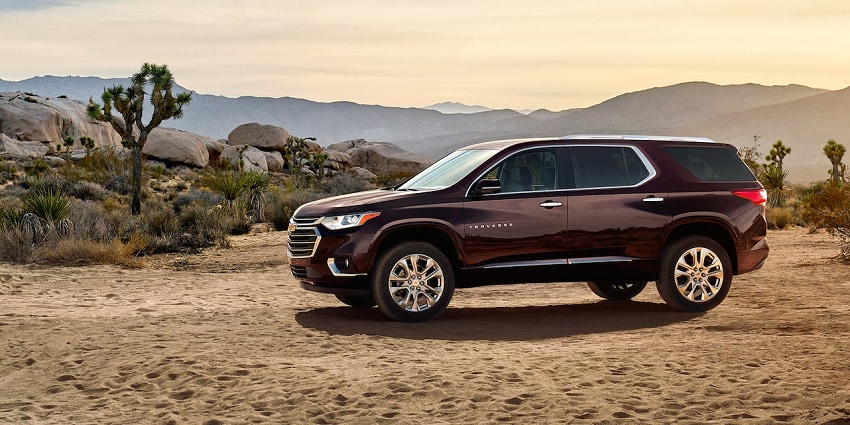 2021 Chevrolet Traverse - Interior Style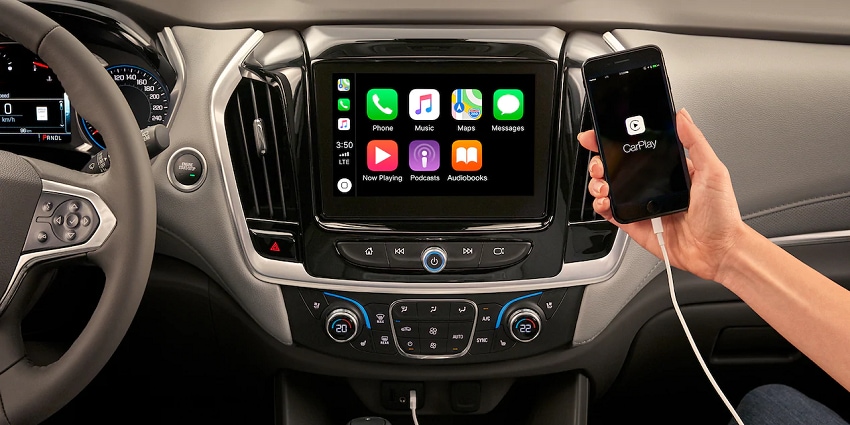 2021 Chevrolet Traverse - Interior and Exterior Design
This year, the 2021 Traverse has a more sophisticated interior design than its predecessors. A highlight of the SUV's interior is the option for premium seats, which are now available in a wider range of colours. More fabrics are available to choose from as well to create a comfortable cabin. Another notable feature of this year's Traverse is an optional power sunroof with two panels. On the outside, the Traverse has an equally pleasing design with aluminum wheels that have an assortment of different finishes. A spare steel wheel comes included in some models. Black door handles and a black grille are optional to give your Traverse an exclusive look, and fog lamps are also an option on select trim levels. Roof rails are standard on some trims, and you can choose to get cross rails with a bright finish on the higher-end trim levels.
2021 Chevrolet Traverse - Technology
Technology is at its best in the 2021 Chevrolet Traverse in Rimbey, Alberta, with an updated infotainment system and more available tech features. Now you can get wireless versions of Android Auto and Apple CarPlay for your Traverse if you want more effortless connectivity. A diagonal driver's screen can also help you keep tabs on the SUV's latest performance output and statistics. Wireless phone charging is an option this year, and the engine has a start-stop mechanism that helps save on fuel usage. Device charging and connectivity are simpler than ever, with a total of seven USB ports in all three rows.
2021 Chevrolet Traverse  -Cargo
The 2021 Traverse has a low loading floor for convenience. Its total cargo volume across all three rows is 2,781 L. Behind the second and third rows you will get a maximum cargo volume of 1,637 litres. Additionally, there are 651 litres of cargo volume behind the third row.
2021 Chevrolet Traverse -Performance
A V6 engine and automatic transmission are standard with the 2021 Traverse. All-wheel drive and front-wheel drive are your options for a drivetrain. The Traverse has an estimated fuel consumption of 8.8L/100 KM on the highway.
Contact Us
Talk to us online or at our dealership to learn all about the 2021 Chevrolet Traverse in Rimbey, Alberta. We welcome all our neighbouring communities inquires from Lacombe, Red Deer, and Sylvan Lake, AB. Contact us for personalized assistance and recommendations. The friendly staff at Buist Motors will gladly provide all the information you want to know about the Traverse and more.
2021 Chevrolet Traverse - Online Inventory